It's been a good spring to be young—more precisely, to be singing and/or rapping about it. The nation's #1 song is currently "We Are Young" by the preciously-named NYC band fun.; at #16 is "Young, Wild, and Free" by Snoop Dogg and Wiz Khalifa. Both songs fit squarely into the tradition of pop songs about youth: they're alternately celebratory (being young is a gas!) and defensive (get off our backs, olds!).
Beginning a series about "guilty pleasures" with a song featuring Janelle Monaé might seem incongruous, since the last thing anyone should ever feel guilty about (besides masturbation) is sipping at the bottomless well of coolness that is Ms. Monaé. What you have to feel guilty about, though, if you willingly listen to "We Are Young," is allowing the freedom of youth to be undercut with such insidiously wicked irony. Though the anthemic chorus will doubtlessly be shouted next month, with many tears and great sincerity, by millions of 18-year-olds who are currently enjoying their senior springs, the song's lyrics tell a tale of repeated romantic failure—up to and including a scarring that might or might not be literal. In this context, the words "We are young" are a declaration of surrender; "We can burn brighter than the sun" an invitation to mutual destruction by a guy who knows you should stay the hell away from him. That's not a very youthful sentiment, and in ten years or so, the homecoming queens who get knocked up to this number will be looking for an apology.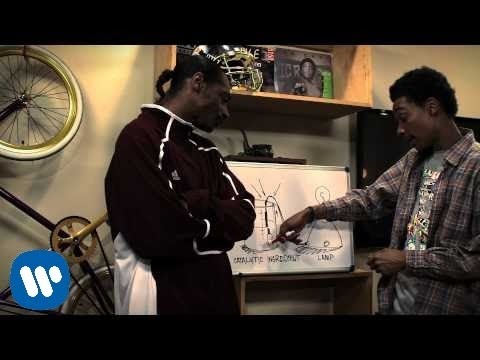 And then we have Snoop Dogg (b. 1971), who's never been doggier as he blithely gives a double meaning to the term "Top 40." It's hard to know exactly where he's going with this project since the soundtrack that produced this song accompanies a yet-unreleased film—Mac and Devin Go To High School—but he seems to be positioning himself as the 21st-century successor to Matthew McConaughey in Dazed and Confused ("That's what I love about these high school girls, man. I get older, they stay the same age"). That's fine by Snoop, whose approach to getting older has always been less like that of the panic-stricken Jay-Z than like that of O.G. Muddy Waters, who was growling out "Good Morning, Little School Girl", right up until his death at the age of 70. You might feel a little guilty about watching Snoop bumping and grinding with girls he could have fathered while legally drunk, but the D-O-double-G is giving none fucks. "Yabba dabba doo," indeed.
The incredible talent behind this post:
Words by Jay Gabler, a co-founder and co-editor of The Tangential.
GIFs by Icky Ricky, an artist living and working in Bushwick, Brooklyn.