The official story is that No Doubt's "Just A Girl" was the first CD single (LOL remember CD singles?) I ever owned; the reality is far bleaker, and happened many years before thanks to Australia's own Spice Girls precursor, Girlfriend. So maybe "Just A Girl" wasn't the first single I ever owned; but it was the first song I remember actively changing my life. From Gwen Stefani's combat pant sporting, bindi wearing rage in the saturated color of the accompanying clip, for the first time I became very aware of the inequities associated with my impending womanhood.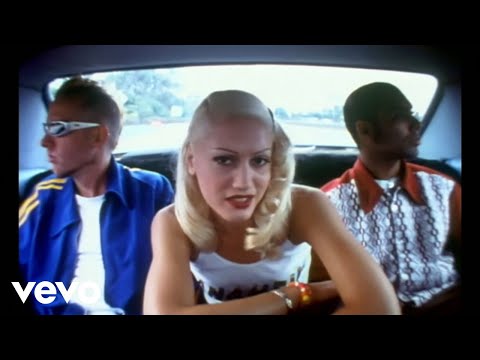 In the years that followed, I tie dyed every single thing I owned, wore blue hair mascara and started a vocal feminist movement at my grade school in which I petitioned violently for the girls' right to play football with the boys, often leading guerilla exercises in which I'd strategically organise a group of girls to steal the boys' playing ball and hide out with it in the girls bathroom until we were allowed to play. It was a revolutionary time for me.
I saved up all my pocket money to buy Tragic Kingdom, and everything I learned from pop culture as a pre-teen I learned from No Doubt. I still listen to Tragic Kingdom now, and honestly, it's more than just nostalgia; Tragic Kingdom is easily one of the best pop albums produced in my life time.
No Doubt hasn't made anything to top Tragic Kingdom, but in my opinion, The Return Of Saturn and Rock Steady hold up as brilliant albums in their own right, especially Saturn's "Simple Kind Of Life" and "Bathwater", which act as emotional epilogues to Kingdom's rebellious youth (although it was "Magic's In The Makeup" that really affected me as a lost and lonely fifteen year old girl). Rock Steady furthered the evolution with the romance of "Underneath It All" and party tunes "Hella Good" and "Hey Baby." All in all, No Doubt's post-Kingdom catalog hasn't disappointed… until now.
When I heard No Doubt would be re-forming to release an album in 2012, like anyone who grew up in the 90s, my reaction was mostly "WOOHOO ALRIGHT YEAH!" and maybe I set my expecations a little too high; but if you were ever a pre-teen clutching a copy of Tragic Kingdom to your chest like it was the first and last album that would or could ever exist, then maybe you'll understand where I'm coming from.
It's not like I don't understand why bands re-form years after the point. The aim is to  make a buttload of cash from an existing fan base while attempting to appeal to a whole new audience (presumably the "kids" of today who knew No Doubt used to be cool and held up on a pedestal of 90s-chic nostalgia, but never experienced the "moment" first hand), giving those who were left out of the band's initial popularity chance to buy into to hype. It's probably also got a lot to do with vanity, "look at us! We might be older now but we still know how to rock!" The cynic in me is skeptical as to whether any of it has to do with "the love."
In No Doubt's case, Push and Shove feels like the worst kind of comeback: a lazy vanity project. I listened to it in its entirety the other day and it was, for lack of a better descriptor, a complete snoozefest. I wanted No Doubt to come back, sure; but I didn't want this. This is so bad, I'm trying to pretend it's not happening.
There's nothing inspiring about Push and Shove; indeed, I can't even hum the melody to "Settle Down", the album's first release. That's how forgettable the whole thing is.
If I'm going to be blunt, I'd say I think Push and Shove is a selfish act at best. In a bid to create a "modern persona" and re-fill the coffers (DON'T YOU PEOPLE HAVE ENOUGH MONEY?), what No Doubt have done is, a. bored me to tears, and b. tarnished something that I hold as holy and sacred (I have no God OK. Pop is my God).
I guess this is the constant war that rages between a creator and their audience; selling out vs. staying true to the intagnible notion of "original genius" (although I'm wary of using the term "sell out", because I'm not convinced that No Doubt have "sold out" so much as they've rested on their laurels to make a sub-par product that they knew would make them a quick buck regardless). Overall, the image and sound seems to hold mostly true to everything that came before; it's just that the whole package doesn't fit on any evolutionary page of the No Doubt story, probably because it's not exciting or memorable in any way.
In 17 years, no one will be dancing to "Settle Down"; but I'd bet good money that "Just A Girl" and "Don't Speak" are still in rotation.
Essentially, Push and Shove is an incredibly watered down version of everyting No Doubt has done before, and as such has led them to fall way below the bar set even by Saturn/Rock Steady. For a fan, this is the most devastating sort of heartbreak; the pop equivalent of finding out that your partner of almost two decades has cheated on you. It's a very peculiar thing, feeling personally betrayed by your pop idol, as if you were singled out and uniquely disenfranchised.
Let's be real. There's never going to be another Tragic Kingdom. But there is always going to be the opportunity for No Doubt to continue to be a great pop band, and as such, the opportunity for No Doubt to capture the imagination of their existing fans and even a new generation of fans. Push and Shove didn't need to be No Doubt's Illiyad; but they could have at least pretended they cared enough to make something vaguely interesting.