Deep below a dashing billionaire's mansion, on the outskirts of Gotham City, lies a secret chamber holding tens of thousands of dollars worth of mysterious equipment and no windows, a chamber few know the location of, a chamber which —
OK. This metaphor blows. It's not a secret. A handful of people know where it is, and no one has called New York City "Gotham" since like the 80s. Also I'm not sure the dashing guy is a billionaire, and I can't back that up.
Wreckroom Records is a recording studio in the basement of Adrian Grenier's Brooklyn home. But it isn't your usual basement recording studio (despite what I perceived as an attempt to decorate it in that theme); Wreckroom is a real studio, with real equipment, and a real engineer (his name is Brian, he's pretty cool).
I visited Wreckroom earlier this month to get an idea of what goes on down there. It really is in Grenier's basement: sitting in his living room I could clearly hear the band downstairs, I asked Mike Frankel, the business brains behind Wreckroom, if you could always hear the bands throughout the house; a presumed female companion of Grenier's overheard and laughed.
"Yes, you can," said Mike.
The door from Grenier's living room to the recording studio.
Frankel was my main tour guide through Wreckroom. He brought me downstairs, through a large glass door in the living room, and down to the studio. Inside was a little living room where some hardcore chilling was getting done: but they weren't really chilling, they were working; head producer Damien Paris is simply really good at creating a relaxed working atmosphere, but more on him later.
Sitting around the figurative recording campfire were Radkey, a family rockband from Missouri; their father-manager Matt Radkey; engineer Brian Koerber; and Damien.
I spoke with Frankel while the band and crew were finishing up a cut, he told me a little bit about the history of Wreckroom. The band was too loud for me to work my voice recorder, so here's a summation of the shitty notes I jotted down:
Wreckroom was started relatively recently as a passion project for Grenier and Paris: it'd always been a dream of theirs (Frankel didn't mention this but Grenier and Paris are childhood pals, they've made art [film and music] together over the years, and are currently working on producing Paris' screenplay, Family Slaycation).
Basically what Wreckroom does is bring in bands, culling from connections Frankel, Paris, and Grenier have made over the years, and gives them a recording session. The session is then turned into an awesome video of the track they recorded: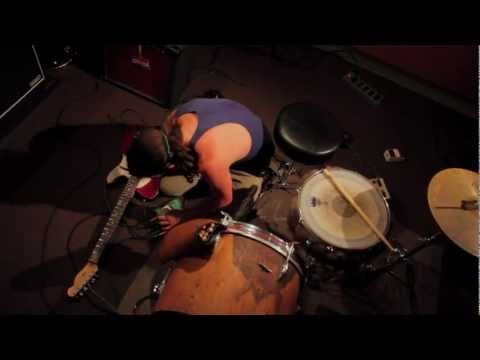 They've slowly made partnerships, "spread the gospel," and become more legit through distribution and online media, which has given Wreckroom the acceleration it needed.
They've been going at it "seriously" for "a few months," and their YouTube channel and Tumblr page will attest to that: the average interneter's perusal of Wreckroom online properties will find tons of great new content.
"Everything we can do to elevate bands, we'll do it," said Frankel in one of the few direct quotes I was able to write down word-for-word, "Once an artist hits big, we'll both benefit." And so will the other artists, all those who have recorded at Wreckroom are intrinsically linked through the studio. And because they are hoping to draw traffic to the work of the studio itself, Wreckroom tries to bring in a variety of artists, so the average music fan will be able to find something they like.
Despite the variety in the music, all of Wreckroom's videos have a distinct style. They are all very different, but have a common feel tying them together. The videos are produced by doing an audio recording with an underlying track, then doing video shoots of the band performing the song multiple times, and cutting it all together for a "fun, jumpy, feeling."
Damien said of the similarities and differences, "we use the hinderance of always shooting in the same room as a creative challenge."